A Little Bit of Home
December 31, 2001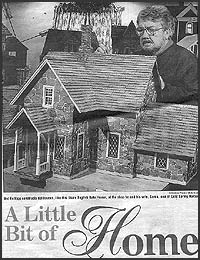 "What says home? Is it a pillared white colonial or a tall brick brownstone? Or maybe home is a fantasy--an 18th-century English gatehouse or graceful gabled Tudor castle. Whatever it is, Ned Kellogg can build it. In the past 26 years that he has been building dollhouses.....(he) has painstakingly handcrafted thousands of them.
At Kellogg's $58 will buy a solid Cape Cod meticulously built and ready to paint and finishing yourself....$7,000 will fetch a Victorian townhouse perfectly recreated inside and out...There are almost endless price increments in between.
Every dollhouse at Kellogg's is custom built to the specifications of the person buying it. The Kelloggs continue to make the $58 house despite small profit because they feel that everyone should be able to afford a good-quality house. "We have them to keep our houses in a price range that everyone can afford," explained Ned's wife, Sonia, who handles customer service. The Kelloggs started their careers as oratorio soloists with the New York Philharmonic and other major orchestras. When their first child was born, they felt a more dependable income was called for, and in the early 1970's opened a dollhouse store in Little Neck. "I was uncomfortable with the quality of the kits so I started making my own houses.
Some time ago, a photo of a Victorian townhouse in San Francisco captured Ned Kellogg's imagination and he recreated it in his shop down to the elaborate gingerbread trim over the door. When their daughter, Valerie (a Newsday staffer) visited the house some time later she discovered that the structure is now a pizza shop, many architectural details removed. Also, a four-story stone and stucco dollhouse was copied from a photo of a building in Lisieux, France. "One day", Sonia recalled "a woman walked in and saw this house and said "Oh, my goodness. I lived in that house during the war. It was bombed."....There are little details, but, if you want a house to look right, you have to be willing to stand the repetition and even sometimes boring tasks it takes to get it right," he (Ned) said.
I'm just glad that (customers) are happy and I'm very, very concerned about doing things right.
---