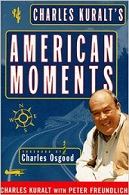 Home Tiny Home
by Charles Kuralt
(available at Amazon)

You know how it is being a homeowner. There's always work around the house: a lamp to replace, or shingles to make, or windows to fix.
Ned Kellogg of Cold Spring Harbor, New York, has a Ph.D. in anatomy. Long ago, however, he turned into a home builder. Why build tiny houses instead of big ones, Mr. Kellogg?
KELLOGG - I first of all don't like going up ladders.
Well, that doesn't explain the saintly patience this requires, or the surgeonly skill.
Ned Kellogg was a good carpenter even as a child. When he was small he built bigthings - full-sized furniture. Now that he is big, he builds smallthings - stunning small things.
You will notice that I have not called them dollhouses. They are far finer than that. Look at this half-timbered cottage of Shakespeare's day. Perfection is perfection, no matter the scale.
Ned Kellogg knows more about homeownership than anyone else I can think of. After all, he owns dozens of homes. Until, that is, some buyer appears in his shop and falls in love, and decides to take one of Ned Kellogg's homes home.
---